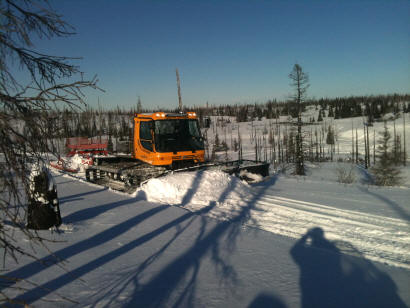 Trails Report

Grooming Activities - March 12 & 13, 2019:

All of Clam Gulch Trail
All of Jesse's Trail
All of Upper Clam Gulch Trail
All of Tinkle Tree Trail
All of Barrel Trail
All of Straight In Trail
All of Grand Prix Trail
All of 126 Trail
All of Lobo Lane
All of Waterhole Trail
All of Jeep Trail
All of Center Plateau Trail
All of 5000 Road
All of 5th Trail
All of Gravel Pit Trail
All of Lost Creek Trail
All of Gold Hills Trail
Cooper's Bypass
O'Malley Twins Trail
Matti's Bypass

Please keep in mind the trails were groomed Tuesday and Wednesday this week. Subsequently we had some winds and snow resulting in some drifting, be aware.
The ice bridge on Deep Creek at the bottom of 126 Trail has gone out, the ice bridge on Deep Creek had gone out and was rebuilt on Tuesday and so far is intact. We're staring to get more spring like warm temperatures so ice bridges are beginning to get soft, again, be aware, thanks.
Hope to see everyone at family fun day, tomorrow 3/16 at Freddie's Roadhouse!



Please respect private property and stay on the trails unless you have permission to cross.
If you don't know who's property you are on, stay off!
Littering has also become a recent problem, if you "Pack it in, Pack it out"!
Contact: Jeff Breakfield 398-4293, jbcabo33@hotmail.com for garbage clean-up assignments along Oil Well Road.