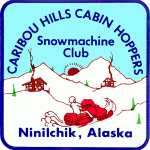 The Caribou Hills Cabin Hoppers is a Non-profit volunteer organization established in 1987 to promote, develop and secure safe recreational trails for public use. Our common goal is to preserve these trails for future generations to enjoy year round. Hikers, hunters, bikers, backpackers, cross--country skiers, dog mushers, snowmachiners or anyone who desires to enjoy our great public lands. Proceeds are used to purchase and maintain our equipment, provide public access and develop safe trails. We are a volunteer organization, so please join us in our efforts. Your membership is critical to our organization.

Visit us on facebook: www.facebook.com/Caribou-Hills-Cabin-Hoppers

NOTICE:

Kenai National Wildlife Refuge is closed.

Clam Gulch parking lot is OPEN.